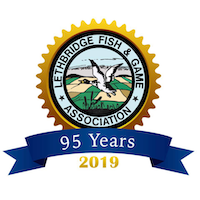 95th Year Awards & Wild Game Dinner a HUGE Success!
95th Year Awards & Wild Game Dinner a HUGE Success!
By all standards, the 95th Year of LFGA Community Service saw the best Awards & Wild Game Dinner in years (maybe ever) and that is saying a lot because this event is always a highlight for our years' activities and as such an exceptional event for our community, family and friends.
This event is made possible every year by two important groups – the Volunteer Event Co-ordinators and the truly amazing support from the wider community through the donations of the prizes that allow us to make this our premier fundraising event of the year.
Monies collected help us maintain our high level of support for conservation activities as well as open sporting events focused on firearm safety and ethical use. In this post, we would like to acknowledge those companies and individuals that donated all the items that made the 95th Year Awards and Wild Game Dinner such an amazing event
Please take time to read through the list, it's important that we support those that support us, so please patronize the following businesses and thank the individuals who gave so much if an opportunity to do so arises!
ACKNOWLEDGEMENTS
Thank you to all the Individuals & Corporations who
have contributed to this Wild Affair!
MEAT CONTRIBUTORS
Ken Petersen,
Keith Crawford,
Doug Mickey,
Gerry Pittman,
Wayne Lamb,
Jim Clarke,
Jonn Kerber,
Brian Dingerville,
Allan Trautman,
Jack Giffen,
Armin Gerstenbuhler
YOUTH SPONSORS
K.O.P.S Security & Investigation Inc.
LIVE AUCTION SPONSOR
Jason Aman (pH Safaris)
CONTRIBUTORS
1st Choice Credit Union,
4 Seasons Home Comfort,
Air Tech,
Alberta Blue Cross,
Allan Friesen,
Audry Fox,
Black Velvet,
Canadian Dent Repair,
Centerline RV,
Centum Financial (Vittorio Olivieri),
Charlton & Hill,
Chris Yowick,
Clear Sky Radio,
Cornerstone Funeral Home,
Custom Cat Cribs,
Design Lighting,
Draffins Pharmasave,
Dunn Cabinets,
Eldorado RV,
Evelynn Leffingwell,
Flaman Group,
Fountain Tire North,
Frances Janecke,
Gas King,
George & Lois Zuffa,
Hammon
AG Research Inc,
Harley Davidson,
Heinz and Shirley Plontke,
Hong Kong Gardens,
Huckvale LLP,
Hudsons Taphouse,
lasity Sound,
Iron Maple Construction,
Jim, Debbie,
Miyah Clarke,
John & Audrey Blaylock,
Jonn & Carrie Kerber,
Joseph Eufemia,
Keho Park Golf Course
Kerber Floors,
Kitchen & Bath Classics, Lane Archery,
Lethbridge Door Systems,
Lethbridge Honda Center,
Lethbridge Tactical Supply,
Lethbridge Volkswagen,
London Drugs,
Marksman Guns and Sports,
Martin Brothers Funeral Home,
McCains,
Mike Monahan,
Minute Muffler,
Model Baron,
Movie Mill,
Moxies,
Northside Veterinary Clinic,
Nutters.
*A special thank you to Darran Hollihan who submitted Elk and Moose horns that that should have placed 1st and 2nd respectively. We apologise Mr. Hollihan was missed in the printed program.